Enjoy breakfast every morning in the kitchen & dining room:
Our menu for 2021-22, any changes will be noted on the kitchen message board), please let me know the day before if you aren't going to be eating:
Homemade Breakfast Bar every day from 7:30 to 9:30, coffee and items in the kitchen are available starting at 6 am for early risers, cereal, bagels, bread, butter, jams, fruit.
breakfast may contain salt, pepper, cinnamon and vanilla.
Example Hot Menu (subject to change):
Saturday:
Breakfast Bake
(potatoes, sausage, eggs, peppers, onions, cheese and butter, gluten free)
Sunday:
Caramel French Toast
(bread, homemade caramel, eggs, cream, butter, like a baked bread pudding French toast)
Monday:
Waffles
(flour, eggs, milk, cinnamon)
Tuesday:
Caramel French Toast
(bread, homemade caramel, egg, cream, butter, like a baked bread pudding French toast)
Wednesday:
Breakfast Bake
(potatoes, sausage, eggs, peppers, onions & cheese, butter, gluten free)
Thursday:
Bananas Foster French Toast
(bread, bananas, homemade caramel, cream cheese, eggs, cream, butter)
Friday:
Scrambled Eggs and sausage.
(Eggs, milk, butter, sausage, gluten free)
Ten years of trying various breakfast serving methods, we have found that an "eat when you want", self-service breakfast works best for the majority of our guests.
All items are home cooked and oven baked by Derek or I. Those with special dietary needs are welcome to bring what they need as long as it doesn't require cooking on the stove, I am generally not able to accommodate special medical dietary needs outside of the menu items note above. Ask and we will see what we can do.
Kitchen is closed after breakfast and not available for anything other than for beverages (getting a glass and ice, or a cup of coffee). Guests are also welcome to use the microwave and refrigerator please clean up after yourself if you do. If you get take out or delivered food you are welcome to use the dishes available, please put them in the dishwasher.
There are a wide variety of restaurants in town for lunch and dinner.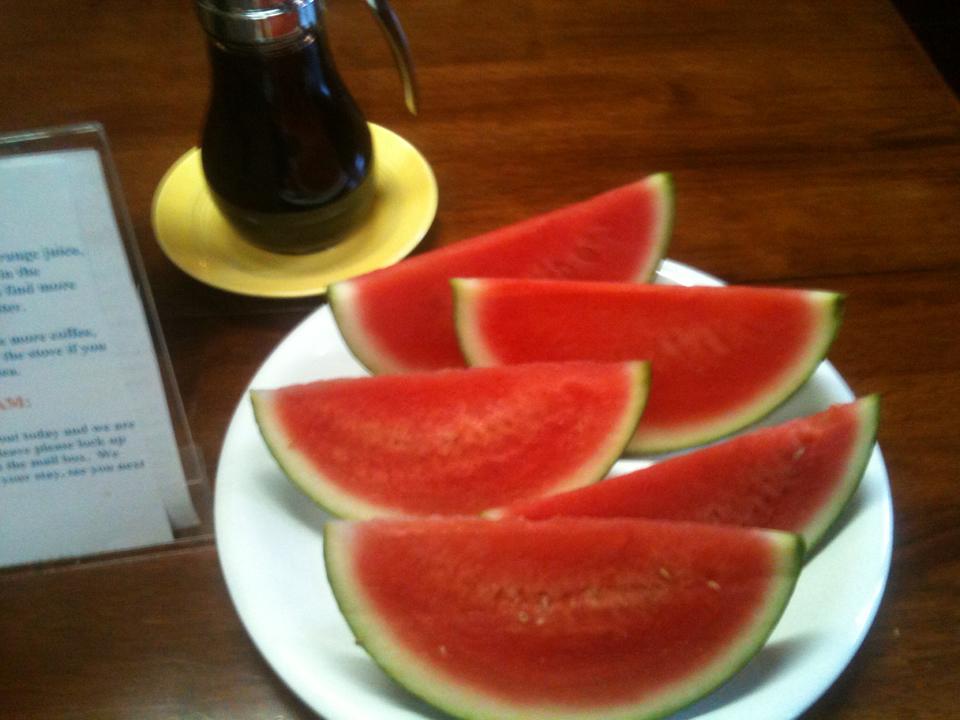 Beverages: Guests are always welcome to make Coffee and Tea in the kitchen any time. Also, cold beverages may be stored in the refrigerator and glassware for drinks are in the kitchen cabinets. Place your used coffee cups and glassware in the dishwasher, we will run it and put the dishes away.
No Stove to cooking or baking: Only extended stay guests are allowed to cook in the house. Please do not cook in the house other than heating something up in the microwave. If you have food delivered or bring take-out into the house please eat in the dining room or kitchen, try not to have food in the bedrooms. I keep the kitchen sanitary, so please clean up after yourself.
A Note on Special Dietary Needs: Please give me a call if you have any questions however we cannot accept the legal responsibility of preparing a special breakfast for anyone's medical requirements. Please assume that foods contain gluten proteins, whey, peanut oils, etc., unless otherwise noted. Fruit, orange juice, milk, eggs, sausages are usually gluten proteins free, however none of the breads or baked goods we have are gluten proteins free. Our Breakfast Bake and the Scrambled Eggs are gluten protein free as far as we know. If you have special dietary requirements, you are welcome to bring a special cereal or other item that does not require cooking other than in the microwave. Some items can also be refrigerated as needed. I do try to accommodate your requests within the menu noted above, so it can be re-arranged.